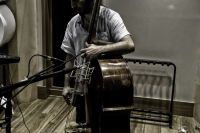 Dopo aver vinto numerosi concorsi quali lo European Jazz Contest, il Premio Fara Music Jazz Live, il Conad Jazz, il Jazz by the Pool, sbarca di nuovo al Tube Recording Studio, ma questa volta in veste di leader, attraverso il bando "All You Have To Do is Play", il contrabbassista modenese Alessio Bruno.
Torna per la seconda volta al Tube Recording Studio il bassista Alessio Bruno, e lo fa guidando un quintetto con Claudio Jr De Rosa, al sax tenore, Wietse Voermans, sax alto, Albert Kerekeš, sax baritono, e alla batteria. Quattro giorni tra recording e mixing, per realizzare quello che già da un primissimo ascolto ci è sembrato un Album esplosivo.
Una ritmica eccelsa formata da Alessio Bruno a dirigere la band e il batterista tedesco Richie Struck, al loro fianco una sezione fiati dal grandissimo talento con il tenorista De Rosa, il baritonista sloveno Kerekeš, e il sax contralto dell'olandese Voermans. Terminate le sessioni di registrazioni, nel prossimo autunno vedrà la luce l'album d'esordio del Quintetto, prodotto dalla Emme Record Label, nel frattempo qualche scatto dell'ottimo Antonello Putignani.