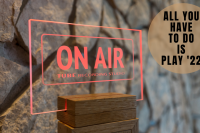 Con il nuovo anno è arrivato il momento di ripartire con il programma "All you have to do is PLAY" giunto alla VII Edizione. Aperto ai musicisti UNDER 35, "All you have to do is PLAY" consentirà alle 3 band selezionate (dal Duo al Quartetto) di realizzare una produzione artistica  all'interno del Tube Recording Studio, con l'ulteriore benefit di poter soggiornare all'interno degli alloggi dello Studio.
Per partecipare chiediamo al vostro progetto solo 3 requisiti:
• INEDITO;
• INDIPENDENTE;
• LONTANO dai canoni della PUPULAR MUSIC.
La "deadline" per partecipare è il 28 Febbraio 2022.
Le registrazioni ed i Mix delle 3 produzioni musicali, scelte dallo Staff del Tube Recording Studio, dovranno essere realizzate entro il mese di Giugno 2022.
Le 3 Band che saranno selezionate avranno diritto:
A) alla realizzazione delle Riprese, del Mix e del Mastering presso il Tube Recording Studio, per la durata di 3 giorni;
A1) accomodation presso la nostra sede;
B) un contratto discografico con la Emme Record Label di distribuzione fisica (IRD RECORDS DISTRIBUTION) e digitale (BELIEVE MUSIC) del progetto discografico sul territorio internazionale e nei maggiori STORES.
C) Ufficio Stampa della durata di 2 Mesi a partire dall'Uscita dell'Album.
D) Presentazione del progetto all'interno della programmazione di un Festival e/o Jazz Club di livello nazionale.
E) Social Media Management per la durata di un anno.
La partecipazione ad "All You Have to Do is Play" è completamente gratuita. Alle 3 band selezionate verrà proposta una compartecipazione di una parte delle spese vive. Laddove una delle band dovesse rinunciare alla produzione verranno integrate le band escluse, solamente nel caso in cui i progetti saranno considerati conformi al nostro catalogo editoriale.
Per info, dettagli e per ottenere la scheda di partecipazione: info@tubestudio.it