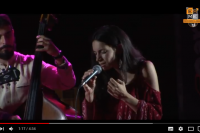 Un viaggio tra il live realizzato al Fara Music Festival 2017 e le sessioni di registrazioni avute al Tube Recording Studio di Fara in Sabina.
I Sidewalk Cat Quintet sono un progetto fondato nel maggio del 2016 dal chitarrista e compositore Marco Papadia e completato da Filippo Galbiati al pianoforte, Andrea Esperti al contrabbasso, Giovanni Martella alla batteria e infine dalla vocalist Sofia Romano. Il quintetto, che ha le sue radici in Puglia, è caratterizzato da sonorità moderne dalle tinte ora delicate ed evanescenti, ora decise e violente. Si propone come ponte tra tradizione ed avanguardia per affacciarsi all'Europa del Jazz emergente.
Special thanks to Marco Mari
Recorded at Tube Recording Studio, Fara in Sabina (RI), Italy on May 23th and 24th 2017
Mixed by Francesco Lupi
Mastered by Mauro Laficara
Una Produzione Emme Produzioni Musicali realizzata attraverso il Contributo di SIAE, MIBACT, SILLUMINA.