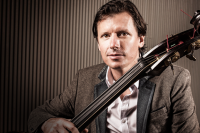 Matt Penman, uno dei più grandi contrabbassisti della nuova generazione al Tube Recording Studio, davanti a una bruschetta all'olio d'oliva rigorosamente sabino…
Questa breve clip con il grande Matt Penman (John Scofield, Joe Lovano, Kurt Rosenwinkel, Joshua Redman, Kenny Werner, Dave Douglas, Chris Cheek, Seamus Blake, Wolfgang Muthspiel, Guillermo Klein, Rebecca Martin, Nicholas Payton, Fred Hersch and Madeleine Peyroux) sintetizza l'esperienza che un musicista abitualmente ha frequentando il nostro Tube Recording Studio.
Noi del Tube Recording Studio definiamo questo pacchetto All Inclusive con questa frase: "All you have to do is play…"
Sono davvero pochi infatti gli studi di registrazione a disporre di alloggi per i musicisti coinvolti nella fase produttiva. Molto spesso infatti, nonostante le ottime offerte economiche, restano fuori i costi del vitto, degli alloggi e dei trasporti.  Queste spese sono piuttosto alte, e se prendiamo in considerazione i costi degli alloggi all'interno delle grandi città, a volte superano addirittura i costi della registrazione.
Ma c'è di più….
Per tutti i musicisti che prenoteranno entro il mese di Ottobre una sessione di registrazione di ripresa o mix, il Tube Recording Studio sconterà dal vostro preventivo una giornata di Studio, comprensiva di vitto e alloggio*.
Immaginate di svegliarvi immersi nel verde della collina Sabina, e dopo una buona colazione cominciare a lavorare in Studio senza lo stress del traffico, dei parcheggi, dello smog che contraddistingue le grandi città.
Insomma un ciclo lavorativo continuo dove relax, sessioni di registrazioni e di mix, pause immerse nel verde, pasti serviti durane le pause lavorative, si fondono in un'esperienza unica dove tecnologia, tradizioni gastronomiche, e uno staff attento, trasformeranno i vostri giorni al Tube Recording Studio in un periodo della vostra vita a dir poco indimenticabile.
*Per ottenere una giornata gratuita di registrazione, comprensiva di vitto e alloggio per 4 persone, sarà necessario richiedere una sessione di registrazione o di mix di almeno 4 giorni. Il Quinto giorno è gratuito.