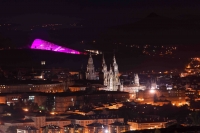 Questa settimana grazie alla collaborazione con Odradek Records saremo a Santiago de Compostela, dove si svolgerà il Womex. Odradek Records è una bellissima realtà, che distribuisce fisicamente i propri progetti dagli USA al Giappone, dalla Gran Bretagna al Canada, e in gran parte degli stati europei. Un'etichetta democratica, no-profit, controllata dagli artisti facenti parte del catalogo. 
Oltre ai nuovi progetti realizzati con la Odradek, in particolare quello del quartetto brasiliano "Urbem" registrato e mixato all'interno del Tube, promuoveremo tutti i progetti della Emme Record Label, etichetta discografica che realizza i propri progetti sempre all'interno del Tube Recording Studio. Spazio quindi alle nuovissime uscite di Claudio Leone Trio "Changes", Enrico Zanella "Mappamondo", Knup Trio "Knup", Motus Trio "Mental Space", Salvatore Russo "Gypsy Jazz Trio", Mynah Trio "Intro", Zadeno Trio "Holes in the ground".
Porteremo con noi anche gli album di Filippo Cosentino Quartet "L'Astronauta", di Francesco Mascio feat. Luca Aquino "Ganga's Spirit" e di Giulia Facco "The Prophecy",  "Passaggio al Bosco" di Andrea Garibaldi Trio, "Che fine ha fatto il Signor Bowman" di Giovanni Benvenuti, e "Travelling" di Alberto Dipace Free Project,  "The Chicken in Love" dei No Trio for Cats e "Dear Mr. Silver" degli Slightly Out Quintet,  "Morbid Dialogues" di Alessandro Deledda Quartet feat. Francesco Bearzatti, "Delusion of Grandeur" dei 4s, "Rosso 50″ dei Coparoom, "Start" degli Illogic Trio, "Don't Be Afraid" degli Unicam Jazz Quartet feat. Jonathan Kreisberg, e "Human Being" di Filippo Cosentino Trio feat. Michael Rosen.
Insomma tanta buona musica, e ottimi incontri con operatori internazionali…