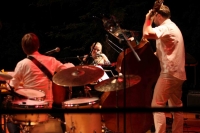 Kadri Voorand ha davvero una gran voce! Un incrocio tra Oleta Adams e Dianne Reeves" (Karl Ackermann, Allaboutjazz).
L'ultima settimana di Febbraio vedrà il Tube Recording Studio ospitare una delle più interessanti voci del Jazz europeo, Kadri Voorand. L'artista estone infatti, ha scelto il Tube Studio per realizzare il nuovo album di brani inediti realizzato con una coproduzione della Emme Record Label.
Domenica 1 Marzo, avrete però l'occasione di ascoltare il suo nuovo progetto, in anteprima assoluta al 28 Divino di Roma. Sarà Kadri ad inaugurare la Rassegna "Pinky High Jazz" dedicata alle donne leader in jazz.
DOMENICA 1 MARZO

Inaugurazione Rassegna "Pinky High Jazz" (marzo 2015)  con il quartetto della vocalist KADRI VOORAND , rassegna dedicata alle donne leader in jazz.

KADRI VOORAND Quartet
Kadri Voorand , voce, piano & composizioni
Virgo Sillamaa, chitarra
Taavo Remmel , contrabbasso
Atho Abner, batteria
Vincitrice del 'Young Jazz Talent of The Year' indetto dal JazzKaar Festival di Tallin è in assoluto una delle nuove star del Jazz europeo. 
Cantante, compositrice, inizia a studiare musica all'età di 5 anni. Dopo solo un anno comincia a comporre brani originali. Le sue influenze a metà tra il folk, il jazz e il rithm & blues rendono Kadri un'artista geniale. 
Recentemente è stata premiata come Migliore CD dell'anno dagli "Estonia Music Awards" 2014. Nel 2012 diventa solista dell' Orchestra EBU European Jazz con un tour in Europa. Durante gli ultimi due anni si è esibita in molti festival e club, come in Ucraina, Russia, Finlandia, Italia, Germania, Danimarca, Svezia, Ungheria, Norvegia e molti altri. Ha inciso diversi album, sia con alcuni i migliori musicisti jazz Estoni che esteri, come per esempio nell'album di Anthony Branker "Dance Music" in USA. Kadri è la più giovane insegnante dell' "Accademia Estone di Musica e Teatro".
Accompagnata da Virgo Sillamaa (chitarra), Taavo Remmel (contrabbasso), Atho Abner (batteria) il quartetto in occasione della registrazione del loro nuovo album presso il Tube Recording Studio di Fara in Sabina, presenterà in anteprima assoluta il nuovo progetto discografico al 28 Divino Jazz per l'apertura della rassegna "Pinky High Jazz" 2015.
28Divino Jazz – Via Mirandola, 21 – 00182 Roma