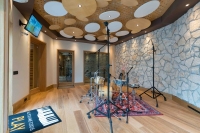 We record you, we mix it for you,  we feed you and tuck you in…
Very few recording studios provide accommodation for the musicians during the production phase. Very often, despite the extremely convenient fees offered by some studios, the cost of food, housing and transportation are not considered. These expenses are quite high, and if we take into account the boarding fees in large cities, sometimes even exceed the costs of registration.
We at Tube Recording Studio have an  All Inclusive package that we like to call: "All you have to do is play …"
The interesting point to highlight  is linked to transportation. The musicians will in fact reach the Tube Recording Studio, just 25 minutes from Rome, comfortably by using the means of transportation of their choice (train or plane), and the organization itself will care of the various transfers. As for room and board instead, we offer artists a facility consisting in a 50 square meters loft equipped with wi-fi, heating, and 4 beds.
The studio was created inside a 200 square meters facility and it consists of five recording rooms (3 are completely new), a control room, a relaxation room, an open space, 4 bedrooms and 1 bathrooms and 1 kitchen.