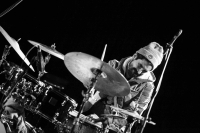 Quantum Trio is the winner of the Hitch On Jazz Juniors International Exchange, 3 to 6 December 2017. The new has just been announced at a gala concert at Radio Kraków. The Band will record at Tube Recording Studio in the next months, and the album will be released with the Emme Record Label.
Quantum Trio is an unconventional jazz trio established in Rotterdam in 2012 by Michal Jan Ciesielski, Kamil Zawislak and Luis Mora Matus. Their music ranges from dynamic compositions through lyrical ballads to rock energy anthems. The first album "Gravity" introduced the band to the European audience and was awarded "Debut Album of 2015" by Polish Jazz. Recently released double album "Duality: Particles & Waves" shows the trio's fiercer side, introducing electronics, modern production, while still maintaining a specific unified sound.
The third Album will be recorded, mixed and mastered at Tube Recording Studio, located in "Sabina", one of the most beautiful natural sites in Italy, just 25 minutes from Rome.  We at Tube Recording Studio have an All Inclusive package that we like to call: "All you have to do is play …"  The musicians will in fact reach the Tube Recording Studio comfortably by using the means of transportation of their choice (train or plane), and the organization itself will care of the various transfers. As for room and board instead, we offer artists a facility consisting in a 50 square meters loft equipped with  wi-fi, heating, and 3 beds.
What Tube Recording Studio is offering to the winner of "Hitch on Music Exchange" is a prize which combines the maximum quality of an absolute Top Class Studio with a boarding opportunity in a facility of over 50 square meters located on top of the recording hall, where the Trio will stay for the entire recording period enjoying the excellent meals prepared by the staff of Tube Studio.
Here in Italy we are looking forward to it…
Pictures courtesy of Kasia Kukiełka