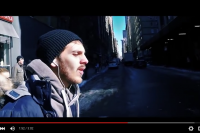 New single "LOSE CONTROL" recorded, mixed and mastered at Tube Recording Studio is out now!


"It's as if The Killers' synth player has been thrust on stage surrounded by the sound of an early '90s Nirvana gig, and surprisingly it works!" (Gigslutz.co.uk)   
Nishe are an Alternative/Indie-rock project from London (UK) consisting of Giovanni Zappa (lead vocals, guitar, electronics), Harold Wilson (bass) and Nicolas Py (drums), three guys portraying different environments and mixing a diverse range of influences, from energetic guitar riffs and big surrounding sounds to urban grooves with cutting edge electronic layers.
They propose a concept of attraction where the intriguing balance between tension and explosion is the key factor, tied with contagious hooks and loads of excitement. Their live repertoire reaches extreme levels of energy conveying the typical rage of Rock and Punk music into a positive burst of adrenaline.
Their first EP "This is Nishe", released in early 2014, has been praised by enthusiastic reviews on blogs and online-magazines as well as having gained rotation on many local and web radios (including BBC Introducing) on both sides of the Atlantic Ocean.
In March 2015 their tour to New York has been a great source of inspiration to the band which later on in October released the single "Lose Control" along with an official video filmed in the streets of NYC. Following this last release, a new four track EP will be published on 11th December 2015, exploring the rawer side of the project and influences ranging from exotic rhythms to industrial electronic sounds.