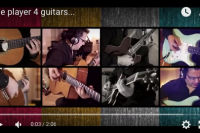 One song, 4 guitars, many styles – this is one man's experiment to mix Classical, Gipsy, Pop, Rock, and Jazz into a total fusion.
Salvatore Russo Plays:
1) Classic Guitar Alhambra, mics Ribera R12, Neumann U87
2) Gipsy Guitar Stefan Hahl, mics Neumann U89, SE RNR1
3) Guitar ES 335 Reissue, mics Shure SM57, AKG 414, amp Fender Bassman Reissue
4) Guitar Fender Stratocaster Custom Shop mod. Jeff Beck, mics Shure SM57, Neumann U87, amp Fender Blues Jr.
"Gypsy Strat", composed and performed by Salvatore Russo
Recorded, mixed and mastered at Tube Recording Studio (IT)
Sound engineer: Francesco Lupi
Producer: Enrico Moccia
Videomaker: Marco Mari