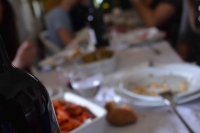 "ALL YOU HAVE TO DO IS PLAY". THE NEW SOLUTION FOR MUSICIANS AND SINGERS.   
What Tube Recording Studio is offering in these months is a solution which combines the maximum quality of an absolute Top Class Studio with a boarding opportunity in a facility of over 100 square meters located on top of the recording hall, where it is possible to stay for the entire recording period and enjoy the excellent meals prepared by the staff of Tube Studio.
The interesting thing is that adding up the costs of all services offered by Tube Recording Studio, namely: shooting, mixing, sound engineering, meals, accommodation, transportation (from the train station of Fara Sabina), you will realize that the bargain will turn out to be of great advantage and  extremely competitive.
Summing up, to record your projects at Tube Recording Studio, whether it takes you up one, two or more days, seems to be a brilliant idea. All you have to do is get in contact with our staff in order to learn about our latest offers…